I know, I know, it's not April yet – but that means there's plenty of time for YOU to sign up and get involved in celebrating LGBT+ fiction all through April over at Laura Plus Books!
Here's the scoop, straight from the mouths of organizers Cayce at Fighting Dreamer and Laura at Laura Plus Books.
This event has no real rules. All you have to do is read and share LGBT+ books. At least one book or one post! Try to spread the acceptance of LGBT+. You don't need to have a blog. You can have a YouTube channel, you can review books on Goodreads and/or you can use the hashtag #LGBTApril on Twitter!
Different things we'll be doing during April are reviews, giveaways, guest posts, discussions, everything! We really hope you can too! There will also be Twitter parties! At the beginning of each week, we'll post a Linky. There, you can link-up all your different posts. You can read all the things other people are posting too.
Do you blog? You can blog about LGBT+ books, interview some LGBT+ authors, and link your posts each week for others to see.
Are you an author of LGBT+ books? You can post about your books and link your posts, or you might like to click on some of the blogger links and offer to be interviewed.
YouTube? Twitter? Goodreads? Other outlets? Post away, and come back and share your links.
Hubs and I will be there, with bells on (which has me wondering exactly what that means, maybe it's kinky :)). We'd love to host you on our blog if you're an LGBT+ author or blogger, and we'd be happy to be interviewed, as well.
Having said all that, I just have to share – one of our recent LGBT releases just received a 4.5 star review!
Four and a half stars at Love Bites and Silk Ties: This story is all kinds of sexy, definitely for grown-ups only, erotic fiction written tastefully, and shows how a ménage relationship can work beautifully… I loved this little trifecta. Kay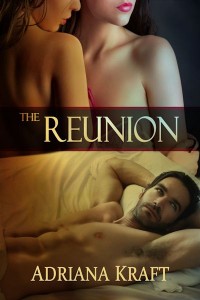 Here's the blurb:
Dark and brooding, Adam Granger was always the bad boy out of reach—but now he's in Sarah Atkinson's bed, the morning after their twentieth high school reunion. When Adam beats a retreat to his Pacific Palisades estate, former good girl Sarah throws caution to the wind and pursues him.
Petite copper-skinned Maria Ramirez greets Sarah at Adam's front door. The former exotic dancer doesn't challenge Sarah's assumption she's the maid—how long will it take the dark-haired beauty to figure out Maria is Adam's live-in lover? Better yet, how long before Maria can entice her into their bed?
Determined not to rock his hard-won lifestyle, Adam resolves to push Sarah past her sexual limits so she'll leave. When she stays, he watches helplessly as the two women fall in love with each other. Will they shut him out? And, if they let him in, what must he sacrifice?