Welcome to the Valentine's Day Gift Hop!
The grand prize is a Kindle Paperwhite – lots of other prizes, too! Click on the graphic to travel – and be sure to scroll to the bottom and enter for one free EBook and a $10 gift certificate.
Happy Valentine's Day!
Do you love or hate Valentine's Day? For me, that usually depended on whether I was in a relationship or not – well, and whether I was happy in the relationship. Curiously, a Valentine's day that stands out for me was one when I was without a partner. I had just turned thirty (truly old, in my mind at the time), my first marriage had ended, I was solo, and I was definitely feeling alone, bereft, not very hopeful, and sorry for myself.
You can imagine how shocked I was to answer the doorbell and see a delivery man standing there with a dozen red roses in his hands, for me. Somehow my parents – not known for being overly expressive – had chosen that moment to reach out to me and make me feel loved and cared for. It worked, and I'm grateful.
I learned a lot during the four years between that moment and meeting the amazing man I'm now married to and with whom I co-write romantic fiction. The most important lesson was that life can be rich and full with or without a partner. Love abounds in many places.
Why am I talking about this on Valentine's Day? Whether I'm blogging or writing fiction, I'm always writing for romance readers – for you. I have no idea whether you're partnered or not, happy in your relationship or not, but my wish for you this Valentine's Day is that you celebrate the love in your live, wherever you find it. Life is rich and full.
The Unmasking
Well, of course it wouldn't be an author/reader Hop if I didn't tell you about a book! Hubs and I are excited to announce our next release, coming to Amazon on February 15.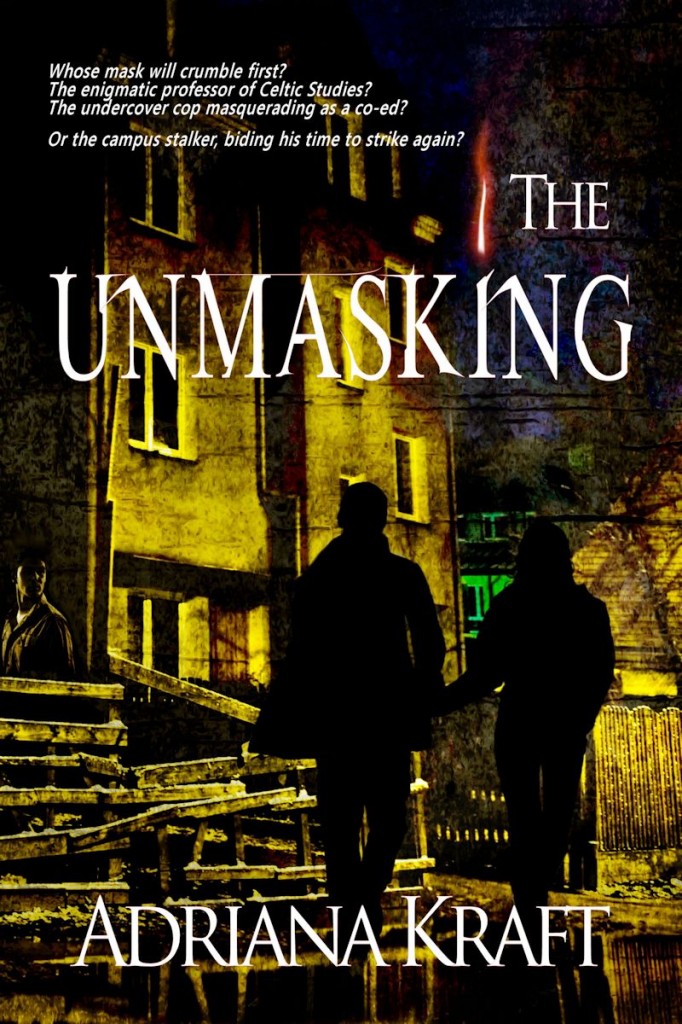 Of course, the cover doesn't look much like Valentine's Day – after all, our hero and heroine have a crime to solve before they can think about falling in love. We think cover artist Dawné Dominique perfectly captured the sinister mood of our creepy villain. Rest assured, it's a love story, with lots of scintillating sex, Here's the blurb:
BLURB
Whose mask will crumble first—
the enigmatic professor of Celtic Studies,
the undercover cop masquerading as a co-ed,
or the campus stalker, biding his time to strike again?
Is anthropology professor Matt Bayfield the Blackthorn College rapist, or a potential ally? Aloof and unapproachable, Matt has academic ambitions. He can't escape Blackthorn College soon enough, and he doesn't want any entanglements to slow down his exit.
Nancy Appleby would like nothing more than to solve the string of campus rape cases before Thanksgiving so she can go home. The last thing she wants is a relationship to complicate her life—but she'll settle for a fling, especially when the sex sizzles.
The stalker has his own carefully crafted timetable, with a special date just for Nancy. Can Matt and Nancy force him out of his hidey-hole before it's too late?
Watch for The Unmasking on Amazon.com February 15!
Be sure to stop by the rest of the hop participants at this LINK!
Use the rafflecopter link below to nter my giveaway for a $10 gift certificate plus winner's choice of one free EBook from my backlist: