Welcome to the MFRW Spring Fever Hop! Click on the graphic to travel, and be sure to scroll to the bottom to enter for my prize, a free download of Cassie's Hope with its brand new cover by Rebecca Poole of Dreams2Media.com.
Do you have Spring Fever yet? Hubs and I live, write and travel full time in our  motorhome, so home is where we park it, and that never includes snow! Right now we're in Las Vegas, soaking up sunshine, catching the occasional show, and visiting with friends (and writing and editing and marketing, of course).
We may have stayed warm all winter, but we've had our eye on the upper midwest, where we used to live, and it's been brutal for months on end. I know everyone there is ready for spring, yet I keep getting reports of snow and more snow. Here are some pics of spring in the Arizona desert to keep you warm until it's really spring :).
I always experience spring as a time of hope and renewal – not so true for our heroine, Cassie O'Hanlon, not long after the story opens. Here's our new cover, the blurb, and an excerpt.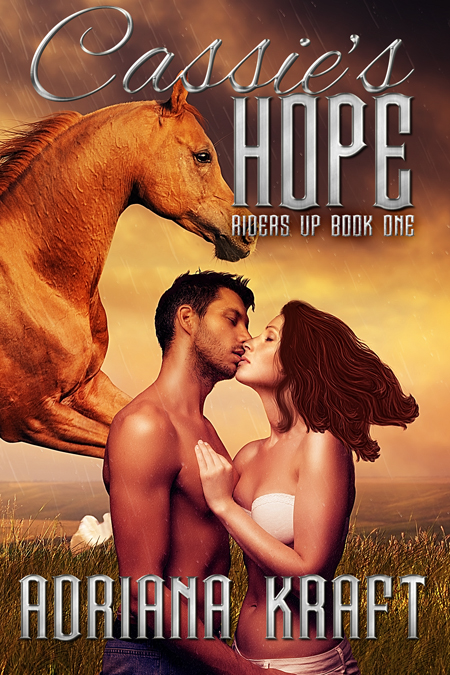 BLURB
What happens when a fiercely loyal widowed half-Ute cowboy meets a fiery redhead with an Irish temper to match? Cassidy O'Hanlon – Cassie, to her friends – has set aside her Chicago career for six months to train racehorses for her dad after his stroke.
Furious the interloper has shipped in a ringer from the Chicago circuit to his Wyoming turf, Rancher/trainer Clint Travers sets out to put her in her place. Sparks fly immediately, but after their rocky start, the two quickly forge a passionate relationship, and he follows her to Chicago.
When it becomes clear someone is drugging Cassie's horse, Clint sets out to solve the mystery, but storms off in a cloud of wounded pride when suspicions turn to him.
Can love trump pride?
BUY LINK
E-Book http://www.amazon.com/Cassies-Hope-Riders-Adriana-Kraft-ebook/dp/B00GDWTUGY
EXCERPT
Six weeks later a cacophony of April sounds greeted the first rays of dawn on the O'Hanlon farm. Cardinals, robins and mourning doves sang to each other. Young foals whinnied, seeking attention from their mothers. A light, bright mood greeted the rising sun, except for the storm brewing on the front porch.
"I can't do it. I proved that already." Cassie kicked at a corner porch post.
She'd been so hopeful. She'd allowed herself to be bitten by that same damnable bug that had infested her father for years. That bug carrying the dream of the big horse disease.
Hope had responded well to the training regimen. She'd worked hard. Nothing seemed to bother her until the day of the race. Then things just fell apart. One race might've been excused, but two races back-to-back?
And Cassie had no answer—not true. The answer was to fess up to being a social worker, not some damn magician with horses.
She stopped her pacing and stood before her father. Quietly, with hands clenched tightly behind her back she announced, "I quit. I'm sorry, Dad. But I'm not good enough."
"Sorry?" her dad spat out. "Not good enough? Quit? Hah, I never thought I'd see the day when the daughter of Tug O'Hanlon quit anything…just rolled over and played dead."
Cassie recoiled. Tears filled her eyes. She knelt and rested her head on his knees. He held her. She sobbed.
Her mind whirled. She never cried, especially in front of her dad. Why couldn't she stop crying?