Welcome to the Wet and Wild Blog Hop! A hundred and seventy fabulous authors have teamed up to guarantee you'll spend your summer with plenty of hot reads to keep you wet and wild. The grand prize is a $100 gift certificate to Victoria's Secret, plus each participating author is offering an individual prize in addition. Click on the graphic to link to all the participants, and be sure to leave a comment on each blog you visit – the more you comment, the more chances to win!
Erotic romance for two, three of more…that's our tag line, and we're stickin' to it! We think readers will love our upcoming release The Best Man, scheduled at Amazon for June 1. My husband and I are launching our indie venture, B&B Publishing, with this release and we can hardly wait. We've already heard back from our first reviewer:
I LOVED THIS BOOK! Everything about Kitty and Jared was amazing. The run to and pull back and chase between them is amazing. Kitty's take charge and no prisoners, make no apologies attitude along with the insecurities and vulnerabilities. Jared's willingness to expand his comfort zone. I loved the backdrop of the horses and racing, showing you're never too old to follow your dream. Beautifully written. Lorrie, The Romance Reviews.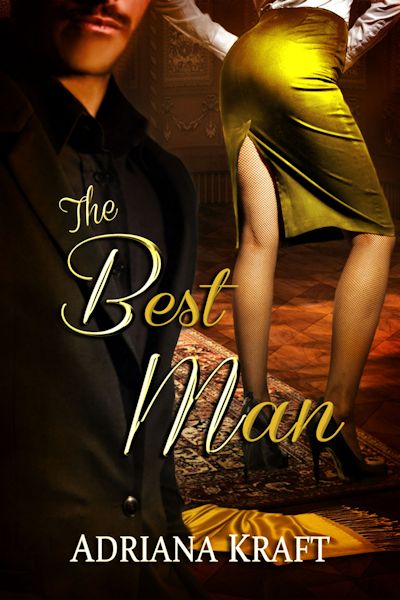 Bad boy meets bad girl. Is there anything more?
We're pumped! When we first met Kitty Paige, we were a little hesitant about leading out with such a bad-girl heroine. I can't remember how we knew she'd be wearing yellow – it takes a bold woman to do that, and Kitty is nothing if not bold. Every move she makes is writ large. We wondered if readers would have trouble identifying with her. She's not for the faint of heart.
But as with all characters, there's a reason she turned out the way she did, and we knew she deserved to meet her equal. We think you'll agree Jared is the perfect match.
So here's the  blurb and a little taste of our bad-girl heroine, Kitty Paige. If you want a peek into bad-boy Jared's M.O., you can check out another excerpt at this LINK.
BLURB
Passionate, hard working and every inch a business woman, Chicago realtor Kitty Paige likes her sex raw and edgy, and sees no reason to limit herself to just one man. Never married and not quite forty, the striking blonde has successfully raised her daughter, Susan, and is already pushing her new-found freedom to the limits.
Wealthy commodities middle-man and race horse owner Jared Jacobs is father of the best man at Susan's wedding. He is smitten by the vision in yellow who exudes sex as she escorts her daughter down the aisle. Also single, the handsome mustached California ranch owner with mischievous eyes views his sex life as a series of splendid love affairs, and sets out to make Kitty next on the list.
Together and apart, their chemistry is explosive, and their sparkling repartee and steamy sex catch both partners by surprise. Jared is first to recognize he's fallen in love. When Kitty panics, can Jared finesse his every move and reel her in?
EXCERPT
Kitty lifted her chin as soon as the broad shouldered mustached man headed in her direction. She knew what he wanted. He'd been studying her much of the afternoon and evening. She was surprised it took him this long to come after her.
She offered him a thin smile. How many times had he undressed her in his mind? Maybe as often as she'd undressed him. He was easy to look at. Probably late forties, early fifties at most. Fit. No pot belly, which she despised. Graying around the temples. Square chin and a cute mustache. Kitty shivered slightly, imagining how that Clark Gable mustache would feel rubbing against sensitive spots.
Kitty checked her watch and grimaced. Too bad she was catching the red-eye back to Chicago – there wouldn't be time to satisfy her mustache curiosity.
HOP GIVEAWAY
Our hop prize is a free download (kindle or pdf) of The Best Man, to be delivered to the winner on June 1. To enter, leave us a comment telling us what you love or hate about bad-girl heroines. Can't wait to hear from you – and don't forget to check out all the other HOP posts at this LINK.