Happy New Year from Evernight!
Now that the Christmas cookies are gone, gifts unwrapped, and your holiday visitors have left, you've earned some well-deserved TLC. Evernight authors not only have the cure for your holiday hangover, they have fantastic new books for your 2015 reading list, too!
Be sure to visit every stop on the hop and answer each question. The more blogs you hop, the more chances to win the GRAND PRIZE of an iPad Mini sponsored by Evernight Publishing (one entry per blog). Plus, hop each blog for a host of other fabulous prizes.
So sink into your favorite chair and enjoy your holiday hangover!
NEW YEAR – NEW RELEASE!
Hubs and I are beyond excited to announce the upcoming January 5 release of the fourth and final book in our Riders Up series, set in the horse racing industry!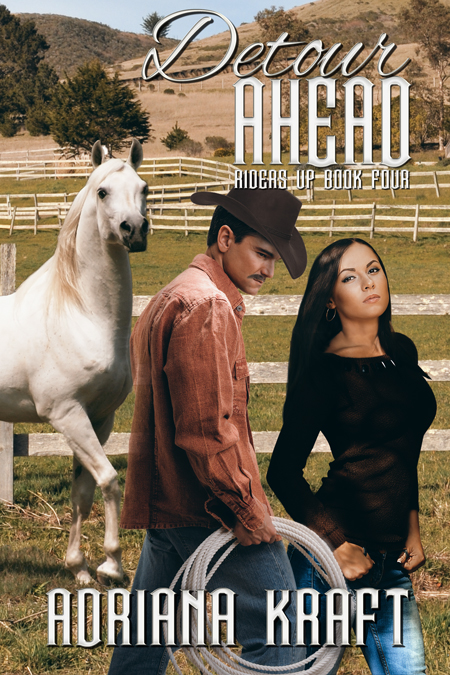 If you didn't know already, both my husband and I love horses, and have been privileged to own them once in a while. The Arabian on the cover of this book wasn't ours, but easily could be. Ransom, the featured horse in this book, is based on a very real half-Arab, half-saddlebred horse we owned. My husband began his ground training when Ransom was still very young and worked with him until he was two, when we had to sell him for health reasons. Here are a couple photos of him – one, as a new foal, and one at age 10:
We had no clue the honey-russet color we loved when he was tiny would turn out white, but he looks just like his daddy in the second photo. A side note – the photo in the pasture was taken when we visited our friends where he is stabled. He hadn't seen us for over seven years, but he came when we called.
That kind of loyalty – and the gentle, patient training that fostered it – are central to the story line in Detour Ahead. Our heroine, Traci Steele, was raped as a teenager, and has yet to transform from being a victim to being a survivor. Here's the blurb:
BLURB
Hot-shot Chicago prosecuting attorney Traci Steele works tirelessly keeping rapists off the street to prevent other women from suffering the hell she's endured, so she resists her friends' insistence that she take a two month R&R in their California Live Oak condo—until they persuade her to help their rancher friend as a private investigator.
Though he runs the stables at Live Oak, well-muscled mustached wrangler Scott McCord much prefers working with the race horses he trains at his ranch, and he can't believe his old friends have sent a greenhorn female to help him with horse troubles.
The improbable dance between this mismatched pair barely fits in around the escalating suspense of whoever's after Scott's horses. Traci is as tenacious in her sleuthing as she is terrified about her inability to ever love a man. Can Scott succeed in gentling her – like he does his horses – before she flees in panic?
REVIEWS
This is a re-release. We don't have new reviews yet, but here are some from the original release:
This is a story about letting go of your past so you can move on to your future. It is a story about letting go of being the victim and becoming a survivor.  …Add into this touching story of recovery a mystery that will keep you guessing to the very end and you've got a story you won't be able to put down. Angi – Night Owl Reviews

Rich in romance and suspense, this book had me mesmerized from the first page. I was definitely drawn toward the main character, Traci, and all of the emotional barriers that she faced. … a sensational job of combining just the right amount of suspense with a sauciness that leaves you longing for more. Run, don't walk to your nearest book store for this sensational book. Val – You Gotta Read Reviews
GRAND PRIZE
Enter for a chance to win Evernight's GRAND PRIZE of an iPad Mini and my blog prize by answering this question (be sure to include your email address to be eligible to win):
Just tell us something about you and horses ~ dreams? Real experiences? Love them? Can't get excited about them? Your comment enters you for both the Grand Prize and Adriana's Prize.
ADRIANA'S PRIZE
Winner's choice, two downloads from our available books!
Your Holiday Hangover continues here:
Click on the links below to travel to the other fabulous authors in this hop!