Welcome to the Naughty and Nice Blog Hop, today through December 16!
GRAND PRIZE
Kindle Fire HDX 7"
loaded with ebooks from participating authors!
Autographed print books to be given away daily
from HOP Central –
the more comments you leave at participating authors,
the greater your chances of winning one!
Click on the Graphic to visit all the other HOP stops!
Naughty or Nice
Whether you were naughty or nice this year, you're sure to find lots of great books to add to your TBR list plus a chance to enter for some fabulous prizes – click on the graphic above to visit all the HOP stops! Be sure to leave your email addy in your comment so we can reach you if you're a winner!
Hubs and I are definitely on the Naughty side of the list – not confessing to a thing, though, except our trademark Erotic Romance for Two, Three, or More!
Which begs the question – I just find it curious that we get so much excitement out of thinking what we're doing or writing might be "naughty," when really it's the most normal thing in the world, definitely to be celebrated and not, in my book, sinful at all. Good sex is a good thing, provided it meets the criteria of what's come to be known as sex positivity: Mutual consent, mutual enjoyment, and no harm to those involved.
De we get an extra kick out of feeling "naughty" when we do something sexy or read a sexy book? Sure – that only adds to the excitement.
Our giveaway for the hop definitely has a naughty looking cover…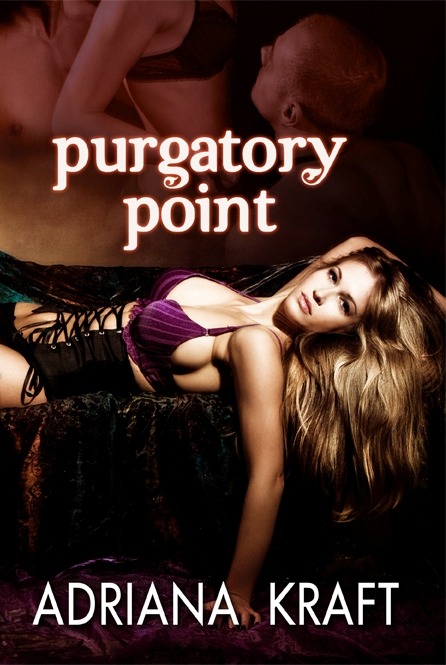 This print volume contains two full length novels set on the exquisitely beautiful lakes of Minnesota's North Woods – and they're both chock-full of naughty characters having lots of exciting sex! Here are blurbs and, of course, the warnings:
The Mistress of Purgatory Point
A tender ghost story and a sizzling erotic romance with a splash of BDSM, Mistress of Purgatory Point is also the deeply moving chronicle of the mid-life sexual awakening of a stoic widow who thought she'd already experienced her one allotted love. One man, two women and two ghosts keep love's fires burning through the deep chill of a North Woods winter—but which love will hold the key?
Return to Purgatory Point
Natalie Bjorg has carved out a satisfying existence at the edge of Northern Minnesota's Boundary Waters – part time canoe guide, proprietor of an upscale art and craft shop, and new owner of a snug lakefront home on Purgatory Point. What's missing? Romance – either gender will do.
World renowned photojournalist Eric Hudson has come home to claim the woman he's always craved, but with a hitch – his brother and sister-in-law recently moved to Purgatory Point. Will Susan seduce Natalie before Eric even has a chance? What if Todd and Susan together sweep her off her feet? Will Natalie consider joining their long established threesome?  And how will she react when she learns Eric has travelled through time with a tribal shaman's daughter?
The possibilities seem endless in this torrid saga of transcontinental and time travel pursuit.
WARNINGS: Explicit sex: m/f, f/f; Menage: f/m/f, m/f/m, four-way; anal play; toys; light BDSM
HOP CONTEST: Leave us a comment to enter for an autographed print copy of Purgatory Point! Tell us whether you prefer naughty or nice – extra entries for tweeting the giveaway and liking our Facebook Page!
Don't forget to visit all the other authors and leave comments – here's the graphic again, just click to travel!