Welcome to the Wicked Warriors Halloween Hop! We've got lots of fabulous authors and great prizes – click on the graphic to link to all the other authors in the hop, and scroll to the bottom to enter our Rafflecopter contest. Our prizes are an autographed print copy of our two-book Purgatory Point Series, including the erotic ghost story, The Mistress of Purgatory Point, and its sequel, Return to Purgatory Point, plus a $10 gift certificate!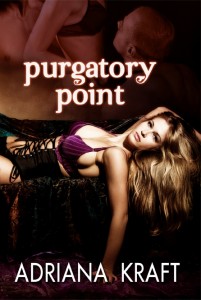 Do you like ghoulies and ghosties and things that go bump in the night? Not me – and neither does our heroine, Martha Richards, at least not in the beginning. Get ready for some very close encounters as Martha discovers just what these ghosts need her to do, if they're to be released to move on! Here's the blurb for The Mistress of Purgatory Point:
BLURB
A tender ghost story and a sizzling erotic romance with a splash of BDSM, Mistress of Purgatory Point is also the deeply moving chronicle of the mid-life sexual awakening of a stoic widow who thought she'd already experienced her one allotted love. One man, two women and two ghosts keep love's fires burning through the deep chill of a North Woods winter—but which love will hold the key?
And just in case ghosts aren't your paranormal cup of tea, the sequel, Return to Purgatory Point, will take you to another dimension entirely, where you'll meet a tribal shaman's daughter.
BLURB
Natalie Bjorg has carved out a satisfying existence at the edge of Northern Minnesota's Boundary Waters – part time canoe guide, proprietor of an upscale art and craft shop, and new owner of a snug lakefront home on Purgatory Point. What's missing? Romance – either gender will do.
World renowned photojournalist Eric Hudson has come home to claim the woman he's always craved, but with a hitch – his brother and sister-in-law recently moved to Purgatory Point. Will Susan seduce Natalie before Eric even has a chance? What if Todd and Susan together sweep her off her feet? Will Natalie consider joining their long established threesome?  And how will she react when she learns Eric has travelled through time with a tribal shaman's daughter?
The possibilities seem endless in this torrid saga of transcontinental and time travel pursuit.
~ ~ ~ ~
Please Note – my Rafflecopter inadvertently set to close a day early. If you leave me a comment after the rafflecopter closes and before midnight on October 30, I'll add your name/email by hand, so you can still enter!