About Adriana
Who Exactly is Adriana Kraft?
When it's Time to Heat Things Up
Winner of the 2014 Bisexual Book Award for erotic fiction, author Adriana Kraft is a married couple writing Sizzling Romantic Suspense and Erotic Romance for Two, Three, or More. With backgrounds in criminology and counseling, we combine our expertise in the criminal mind, trauma, healing and human nature with a passion for robust sexuality and life-long vitality.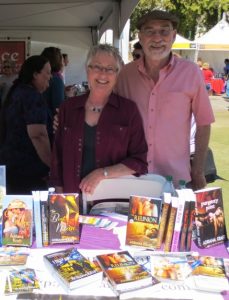 Readers can count on our Romantic Suspense line for "warmth, blazing hot sex, and well-developed characters" (Romance Junkies Reviews) as our hero and heroine battle outer threats and inner demons to stay alive and fall in love.
We write our Erotic Romance stories to entertain, of course, but most of all we write them because we believe in happy endings for all who fall in love, whatever their gender, sexual orientation or numerical combination. Here you'll find multiple partners, three-way, four-way and more, swing lifestyle, lesbian, bisexual, ménage and polyamory, in both contemporary and paranormal settings: "scorching hot…refreshing…something to read when you want straight up hotness" (Long and Short Reviews)
Together we have published over thirty five romance novels and novellas to outstanding reviews. We love hearing from readers at adrianakraft99@yahoo.com
Interviews with Adriana
Amanda Young interviews us about the Swinging Games series
Blak Rayne interviews us about Ripening Passion and The Lady Wants More
Brenda and Steve interview us about writing as a couple
What Reviewers are saying!
"The intimacy is genuine and breathtaking."  CoffeeTime Romance  
"Sensual and spicy romance that will knock your socks off!" Romance Junkies
Links to podcasts we've done
Radio Interview Other Worlds of Romance Adriana reads excerpts from Colors of the Night
Radio Interview Readings in Les and Bi Women's Erotic Fiction Interviews with Adriana and three other Sapphic Signs authors, excerpts
Radio Interview Readings in Les and Bi Women's Erotic Fiction Interview and excerpts from To Love and To Cherish
Radio Dentata The Unnamed Romance Show Sascha Illyvich interviews Adriana
Podcast Interview Fascinating Authors Penny Sansevieri interviews both halves of Adriana Kraft